Rainbow Roasted Vegetables
Rainbow Roasted Vegetables are not only pretty, but they're also healthy and delicious. Get the recipe for this light recipe that the entire family will enjoy!
At our house, there's a nightly battle. I'm guessing this is something that may happen at your home, too. Our kids' entire plate will be empty… except for the veggies. Do you also struggle to get your kids to eat their vegetables? I think I may have found the answer: Rainbow Roasted Vegetables! They are the perfect side to accompany many of our easy weeknight dinner ideas.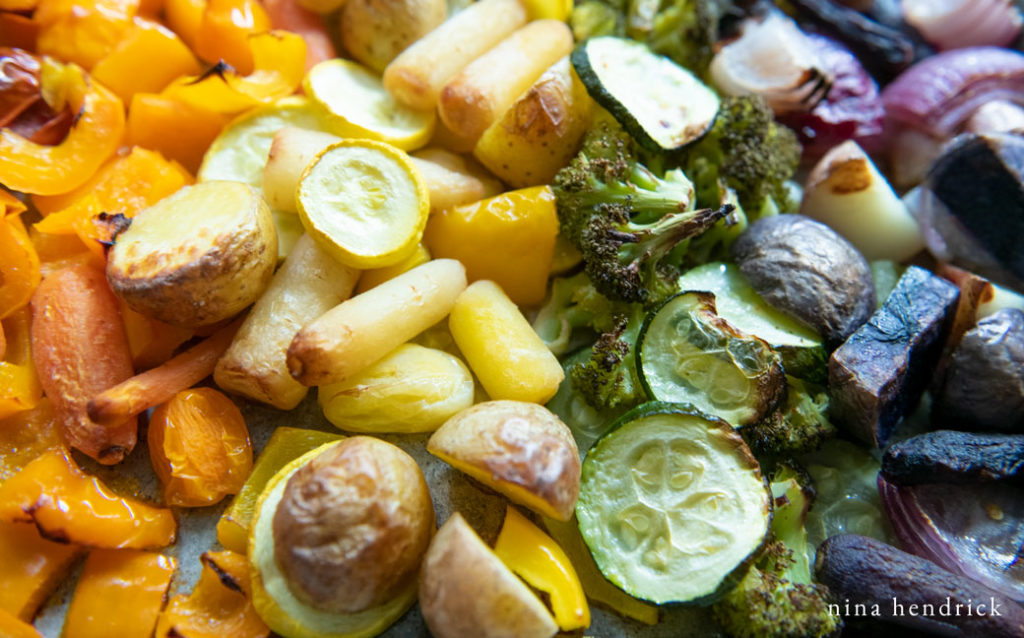 Family-Friendly Rainbow Roasted Vegetables Recipe
I mean, look at these! It certainly makes veggies fun when they are this cool looking. Also, they are so flavorful and delicious, which is the most important part!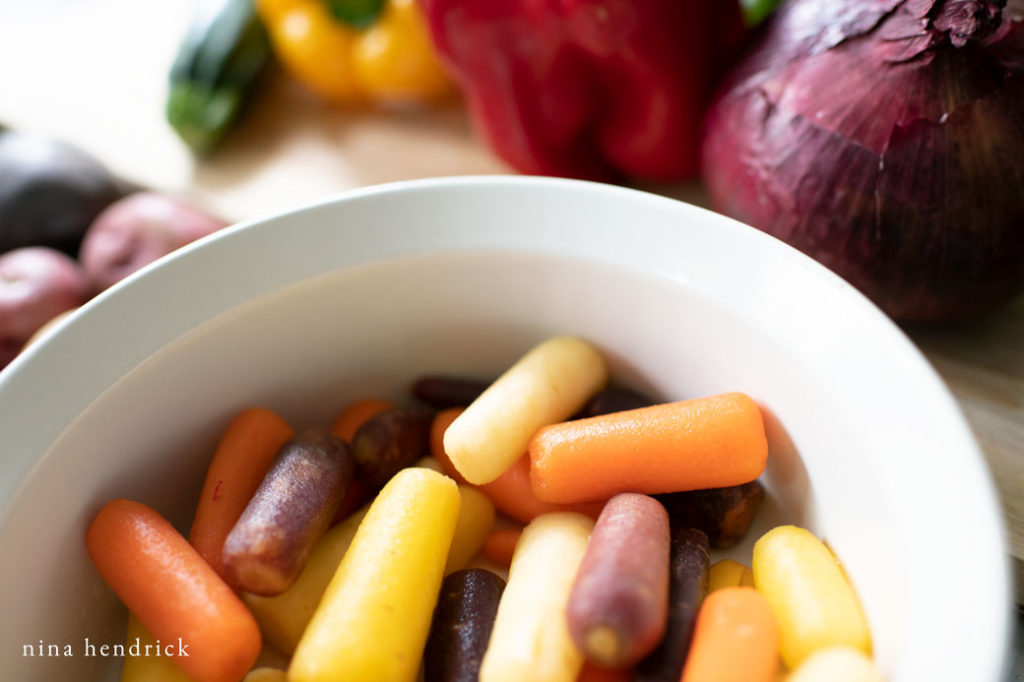 I'm going to try not to go overboard on the photos, which is a challenge, because we had so much fun making these. I was initially inspired by the colorful "heirloom" produce at our local grocery store. They had a display with vibrant carrots, cherry tomatoes, and potatoes.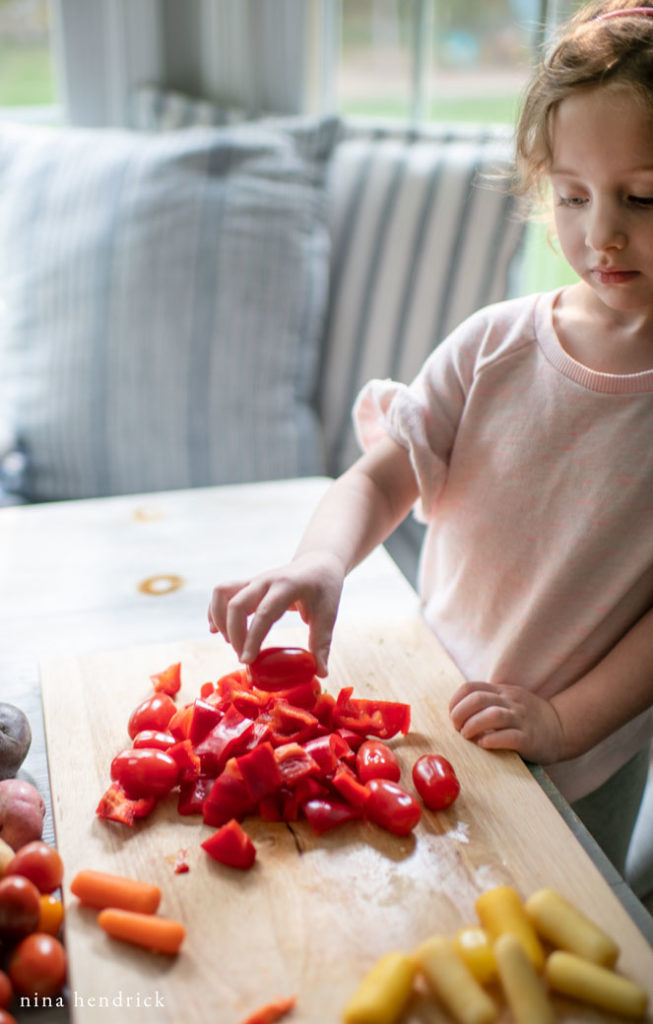 I started out by gathering the produce I was using, and chopping what needed to be chopped. Then, I had Lyla sort it by color. It was a great way to get her interested in the process!
After she had her piles sorted, we placed each color one by one in the bowl. We added a tablespoon of extra virgin olive oil to each color, a dash of salt, a dash of pepper, and a dash of garlic powder.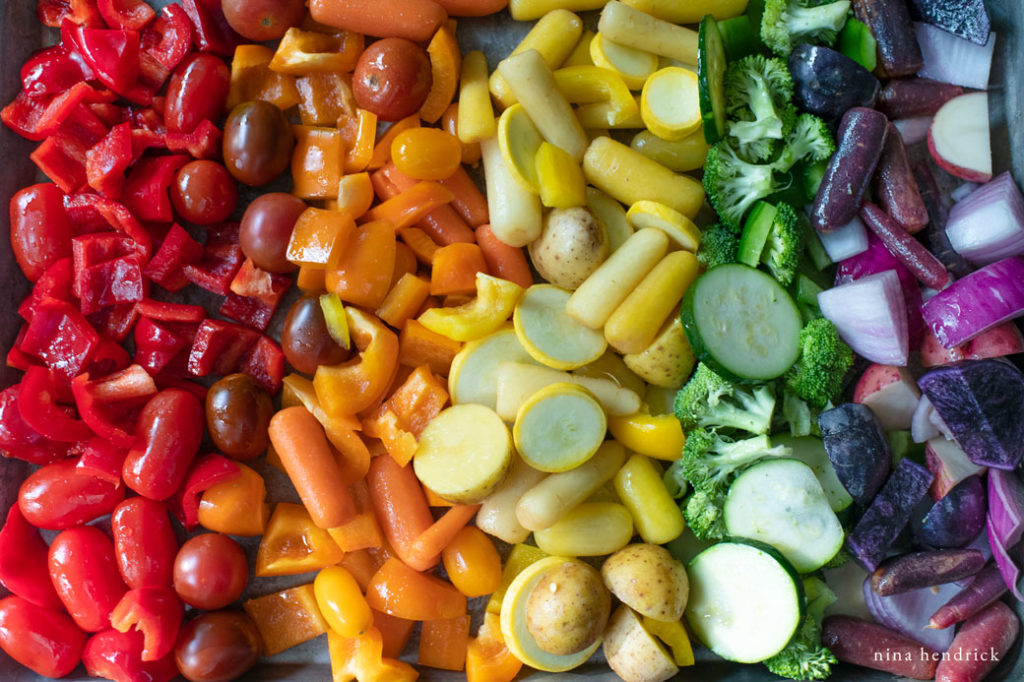 Which veggies should I use for Rainbow Roasted Vegetables?
I bolded the vegetables I used for this post, then added a couple of extra ideas!
Red: peppers, tomatoes, potatoes
Orange: peppers, tomatoes, carrots
Yellow: tomatoes, carrots, potatoes, summer squash, peppers
Green: zucchini, broccoli, peppers, asparagus, green beans
Blue/Violet: Onions, carrots, potatoes, eggplant
I tried to use whatever I could think of just so you can see what it looked like, but you can definitely stick to one veggie per category. If you like things a little crispier, it also helps to have less condensed veggies on the sheet pan! Mine roasted up nicely, regardless.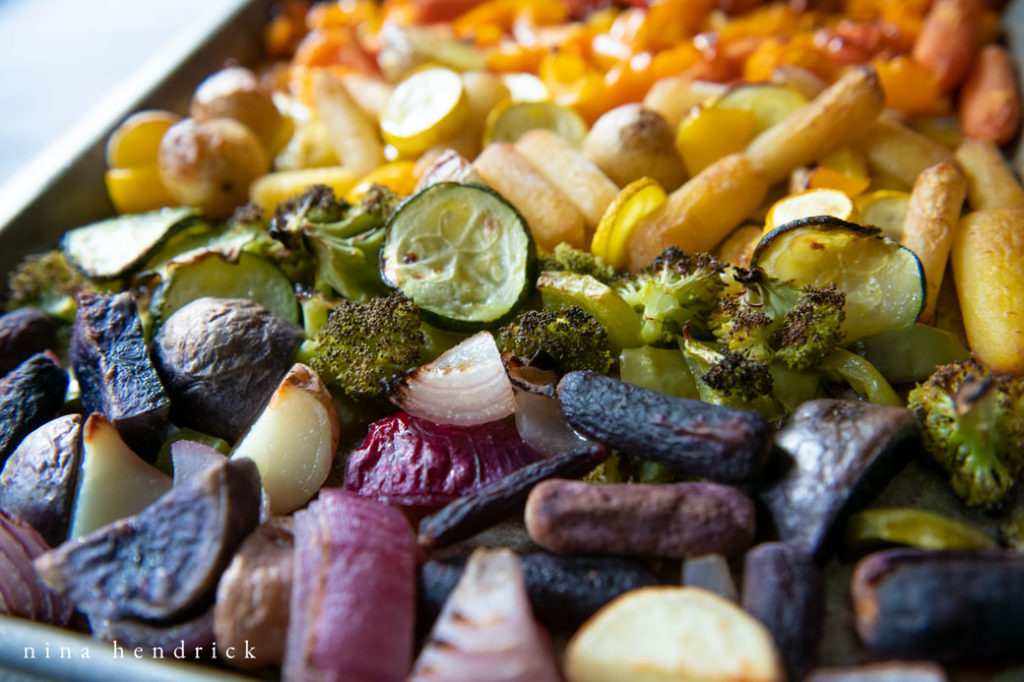 After we had our vegetables seasoned with the oil and spices, we arranged them on the cookie sheet in ROYGBIV order. Next, we roasted the vegetables in a 425 degree preheated oven for 20 minutes.
Not only were these Rainbow Roasted Vegetables beautiful, but they got rave reviews from our family. I hope you enjoy them as well!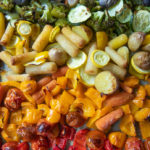 Print Recipe
Rainbow Roasted Vegetables
Servings:
10
cups roasted vegetables
Ingredients
1

medium red bell pepper

sliced and seeds removed

1

cup

red cherry tomatoes

½

orange bell pepper

sliced and seeds removed

½

cup

orange baby carrots

½

cup

orange cherry tomatoes

⅔

cup

yellow baby carrots

⅔

cup

summer squash

sliced into rounds

⅔

baby gold potatoes

sliced

1

cup

broccoli

1

cup

zucchini rounds

sliced

½

medium red onion

peeled and sliced

½

cup

purple baby carrots

½

cup

baby purple potatoes

sliced

5

tbsp

olive oil

extra virgin

1

tsp

salt

1

tsp

garlic powder

1

tsp

black pepper
Instructions
Preheat oven to 425 degrees.

Separate your sliced vegetables into piles by color: red, orange, yellow, green, violet.

Add your red vegetables to a medium bowl. Add 1 tablespoon of the olive oil, a dash of salt, a dash of pepper, and a dash of garlic powder. Mix well then transfer to create your first row on the baking sheet. Repeat with each additional color.

Once each color is on the sheet, bake for 20 minutes or until roasted. Turn once at about 10 minutes to ensure even roasting.
Notes
For crispier veggies use one vegetable for each color and spread them out more on the sheet pan. 
Pin It for Later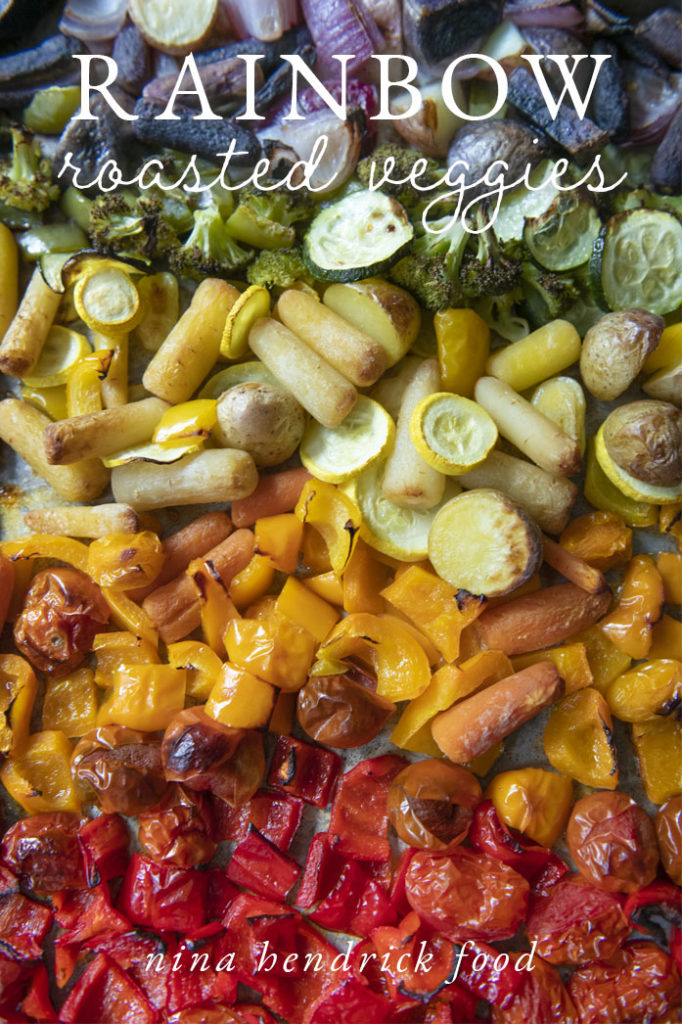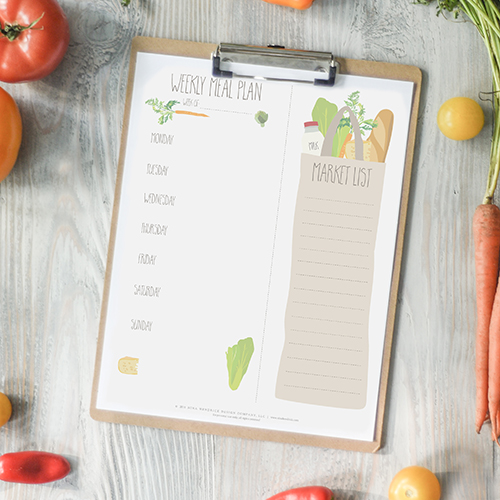 Want Easier Weeknight Dinners?